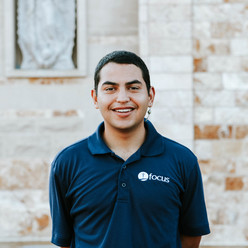 Phillip Wullschleger a focus missionary was the October speaker.   He shared his journey: I've lived my whole life in the Catholic Church; however, I didn't really know Jesus Christ until my least of college.
In my last year of college, a FOCUS missionary invited me out for pizza after mass one day. As a college student free pizza sounds amazing so I agreed to meet with him. When we met I asked him a really basic question about prayer: "why do we pray, and what is its impact" ? We ended up having a really amazing conversation about prayer and in those next few months I began to set out 15-30 mins a day to pray—to talk—with Jesus.
Those months were some of the most transformative months of my life! I learned that our God wants us to tell him everything about our life. Even though God already knows it all he wants us to dwell in his presence. Through prayer I was able to form a relationship with Jesus and our Father like I didn't know was possible.
I have decided to give God these next two years of my life by being a FOCUS missionary because I want students to have what I got! I want them to have a deep and personal relationship with God because that changed everything for me and it will change everything for them as well.